First, just wanted to share some exciting news!  Our Yellow TV stand was featured by Jen at TaterTots and Jello!  Thanks Jen!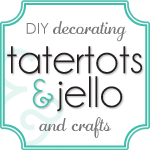 Check out her post on '25 Ways to Brighten Up Your Home' to see our TV stand.
I love decorating for holidays!  My mantel and entry way table always have some sort of holiday theme going on.  This weekend I took a break from finishing up the bonus room to take down the Valentines decor and do a little dusting. (I may or may not only dust my mantel when changing out holiday decor…but that's okay right Caitlin?)  Since St. Patrick's Day and Easter fall so close together this year I decided to do my mantel in Easter and the entry way table in St. Patrick's Day.
Here is how I get started…
1.) Take down old decorations and dust.  Starting with a clear, blank space always helps me to get new inspiration.
I used to have a hard time decorating my mantel because of the big dark abyss of a hole in the center.  When we were building the house we thought "We are so smart…we will have a little nook cut out to put our DVD player and other electronic equipment in".  Well, it was actually a pretty dumb idea for us .  We got rid of our big satellite box when we switched to the Hopper, we no longer needed our Roku because our new TV had built in apps for accessing Netflix and Amazon, and our DVD player broke.  So we were left with a big old hole for a little tiny Joey receiver.  And yes, we realize the TV is off center.  We need to go buy a new TV mount but those things are expensive!
Our solution?  Ryan built me this shutter and we distressed it and painted with Annie Sloan Chalk Paint to make it look old and worn.  I think it covers the hole pretty well while still leaving a little room for the Joey to receive a signal.
So…I was watching Teen Mom while decorating…don't judge!
2.) Next, I round up all the decorations from the attic or around my house that I plan on using and put them into groups so I can see what I have to work with.
 Easter Stuff
 St. Patrick's Day Stuff
 Random decorations that are normally incorporated in some way or another
3.)Last, I start by placing the biggest items first…usually on the outside…and work my way in.  Here is the finished Easter Mantel.
I found this cute little pitcher at local boutique/pharmacy in town.  I just love it!
Check back tomorrow to see how the St. Patrick's Day entry way table turned out!
I'm linking this post up to these Linky Parties:
Monday Funday @ Uncommon Designs Online
www.makingtheworldcuter.com
Pin It